With the NSA spying on everyone and your personal privacy being encroached upon further every day, isn't it about time you took the initiative to look for the best VPN in 2020?
VPNs are a great way to throw government agencies, snooping co-workers, and malicious marketers off your scent with the help of internet transmission protocols that protect your identity no matter where you're browsing on the web. But how do you know which services are there to protect you, and which are just trying to sell your info right back to advertisers for a quick buck?
Thanks to its super cheap price, hugely functional desktop client, and download speeds that leave the rest in the dust, it was no wonder we named Private Internet Access as the #1 pick for the best VPN of 2023.
Best VPN in 2020
Private Internet Access
VyprVPN
ExpressVPN
Spotflux
PureVPN
Encryption Protocols
PPTP, OpenVPN
& L2TP/IPSec
Chameleon 256-bit
AES/OpenVPN
PPTP, OpenVPN
& L2TP/IPSec
PPTP, OpenVPN
& L2TP/IPSec
PPTP, OpenVPN
& L2TP/IPSec
Number of Servers
3,341
700+
136
N/A
500
Server Countries
24
50+
87
10
141
Mobile App?
Number of Devices Supported
5
2 Basic plan, 3 Pro plan, 5 Premier
Unlimited
5
5
Free Trial Period
3-day
Unlimited
Money Back Guarantee
Monthly Price
$6.95
$6.67 Basic, $8.33 Pro, $10.00 Premier*
$12.95
$4.99
$9.95
Annual Price
$39.95
Above billed annually
only
$99.95
$37.99
$59.99
Buy Now
Buy Now
Buy Now
Buy Now
Buy Now
How We Choose the Best VPN
When you compare VPN service providers, there are a lot of various factors that set the best VPNs apart from snake oil; and that's "Virtual Private Network" if you don't know what VPN stands for. In my three years of experience of writing on the subject, I can say confidently that I've seen just about everything the latter has to offer, and on the whole, you need to pay attention to three key features to make certain that you get the best service possible: security protocols, server locations, and reputation.
As far as encryption goes, in general (but not always), a VPN will encrypt the traffic sent over its wires using a number of different protocols, which can vary depending on the service you go with.
These include PPTP, L2TP, OpenVPN, and IPSec, all of which have their own benefits and drawbacks. To explain the technical details of each would (and has) taken several encyclopedias to get through, but on a high level, the only thing you need to know is that all the services we've recommended in this list specifically use a blend of the top encryption technologies, in order to maintain the fickle balance between being well-protected and still maintaining a decent amount of internet speed.
Related: 6 of the Best Paid and Free Antivirus Apps for Mac
Next up is the number of server locations the VPN supports. All of the VPNs on this list support at least 10 servers from all corners of the globe, which is important when you want to reduce the number of jumps in the chain from the server back to your computer. The more hoops your connection has to go through to get to the server, the slower it's going to be, so having a server location as near to where you live is key when running a VPN throughout the day.
Finally there's the reputation of each company we chose, which is something that can't be bought, or even really quantified for that matter. Since my time as the top contributor and part-time editor for the website VPNCreative, I've seen quite literally hundreds of various services come and go in that amount of time, and the ones that survived did so because they have the trust and confidence of their customers. Trust is a hard thing to find in the Wild West of the web, so knowing that your VPN provider is doing everything in its power to keep your information secure is paramount above all else.
Other considerations were paid to services that specifically go out of their way not to track any of your personal data in the case of a server subpoena, as well as those that have a robust mobile app for anyone who wants to protect their traffic on the go.
Why You Should Subscribe to a VPN
Ever since the Snowden leaks first started in 2013, it's become increasingly more apparent why personal privacy on the internet is one of the most pertinent and important issues of the modern era.
But even forgetting the unwarranted surveillance of billions between agencies like the NSA and GCHQ, a VPN is still useful for keeping your information safe from malicious adware programs that might try to scrape your data for a profit. They're also for accessing geoblocked content on popular streaming services like YouTube, Netflix, BBC iPlayer, and Hulu, which will often segment their catalogs of content depending on the country you're connecting from.
Lastly a VPN is a great investment if you're concerned about the threat of identity theft (which you should be whether or not it's happened to you before). Often these digital thieves will scrape your IP address from a malicious server, then trace all your activity back to build a picture of who you are and how you act on the web. After that it's just a matter of some quick social engineering and your entire life is in their hands, pretty much the last place you'd want it to be.
VPNs take care of all of this by putting a wall of spoofed IP addresses between you and the rest of the internet, making it impossible for any outside forces to accurately tie activities like online shopping or mobile banking back to your real name or identity.
#1 Pick

Private Internet Access VPN
Award: Editor's Choice/Best VPN Service
Price: $6.95 mo/$39.95 yr | Number of Servers: 3,341 | Server Locations: 24 countries | Free Trial?: No | Read Full Review: Private Internet Access Review
WHY IT'S A TOP PICK: Private Internet Access puts minimalist design on top of a service that just works the way you want it to, every single time.
Private Internet Access might not be the sleekest looking VPN or the one with the most expensive mobile app, but what it lacks in polish it more than makes up for in speed, functionality, and features. The PIA VPN can be used on almost any device, with tailored Apps for Windows, Mac, Android, iOS, and Linux, as well as 3 browser extensions, and although it doesn't have 24/7 support, it offers detailed tutorials.
PIA is the enthusiasts VPN, one that just works the way you want it to without all the extra marketing materials or flash layered on top. It looks like a piece of software that hasn't been updated in a decade, but the backend has some of the fastest servers and most secure encryption in the industry.
When you use a VPN you want something that's no muss, no fuss, and gets you where you're trying to go with as little interference necessary. PIA comes with a malware/phishing filter, as well as its proprietary MACE ad-blocking software which has a level of protections that's even more robust than what you might get with Adblock Plus or UBlock Origin. Speaking of protection PIA also offers a kill switch to protect you whenever the VPN drops, which means your details don't get leaked out.
Lastly, PIA is far and away the cheapest option of the bunch, which can be all the more valuable if you're already paying $100 a month or more to your ISP as it is. At just $6.95 per month on 30-day cycles and $39.95 a year ($3.33 a month), PIA has managed to combine everything we love about a product into a single, seamless package.
If you want a VPN that's fast, protects your connection, rarely suffers any performance loss on downloads, and won't break the bank, Private Internet Access is the best VPN for 2023. And as one of the best services it is our #1 pick.
Award: Best VPN for iPhone
Price: $6.67 – $10.00 mo (billed annually) | Number of Servers: 700 | Server Locations: 50 countries | Free Trial?: 3-day | Read Full Review: VyprVPN Review
WHY IT'S A TOP PICK: VyprVPN is a hyper-secure VPN that works great on all iOS devices.
If you don't know how to setup a VPN, then VyprVPN is the perfect service to protect you and your family all from the same network.
VyprVPN is one of the oldest providers in the game, and the company has pulled on those years of experience to craft and refine the process of getting up and running on a VPN to a science.
The VyprVPN app for iOS is built from the ground up to cater to the needs of the Apple set, and the iPad app even uses an interactive touch-based map that lets you select your server with the tap of a finger instead of scrolling through their list of 700 servers that span 50 countries globally.
Note: VyprVPN is one of the few providers out there with a hardline position against torrenting or P2P sharing. If you plan on starting torrent any connections on that network, expect your account to be banned without a refund within 24 hours or less.
Award: Best VPN for Android
Price: $12.95 mo/$99.95 yr | Number of Servers: 136 | Server Locations: 87 countries | Free Trial?: 30-day Money-back Guarantee | Read Full Review: ExpressVPN Review
WHY IT'S A TOP PICK: The Android for ExpressVPN is mobile simplicity at its finest.
If you read through any of the thousands of ExpressVPN reviews, you'd know just how much its users love the simplicity and ease of the mobile app experience. Although it doesn't have a free trial, ExpressVPN offers a 30-day money-back guarantee if you're unhappy with its services.
With the help of the "On" button which acts as a hot-swappable widget on Android phones, getting connected to the closest VPN server to your current location literally becomes "the push of a button", and you're online in seconds. ExpressVPN offers one of the best VPN services on mobile unblocking streaming sites such as Netflix, Hulu, and BBC iPlayer among others, includes a kill switch and also offers 24/7 Live Chat support if you run into any problems.
ExpressVPN also uses OpenVPN as its primary encryption technology, which is known for both its quickness and connection reliability when transmitting smaller packets like those you might send/request from your phone.
Mobile VPN usage is all about getting protected quickly and getting on with your day, which is why ExpressVPN is the best VPN for Android users.
Award: Best Free VPN
Price: $4.99 mo/$37.99 yr | Server Locations: 10 countries | Free Trial?: Unlimited/ad-supported | Read Full Review: Spotflux Review
WHY IT'S A TOP PICK: Spotflux offers a free version with ads that outshines most premium VPNs.
This wasn't too hard of a pick to make, given that there's only about two free VPN services you can actually trust currently operating in the industry.
Of those two Spotflux Free takes the cake, thanks to the fact that the company hasn't put any limits on it as opposed to the premium version, which goes for just $4.99 a month. The only difference is the free version displays ads on the client while you use it, but given that most of your experience with a VPN is spent with the window running in the background anyway, this really isn't a high price to pay.
The only drawback here is that Spotflux doesn't have the greatest phishing protection, which means if you want to use it as your primary protection software you're still going to need to have separate antivirus running alongside everything else. Take a look at the best antivirus apps for Mac for your antivirus needs.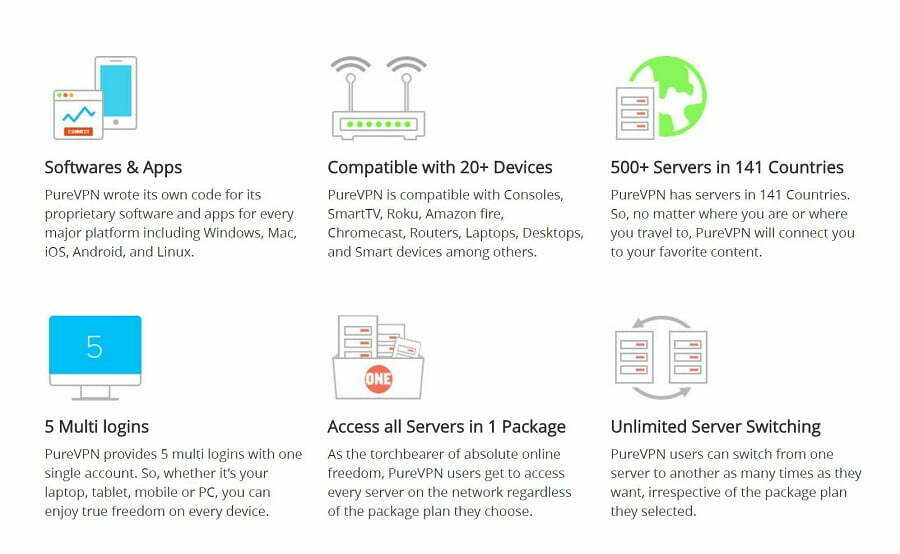 Award: Best VPN for Torrenting
Price: $9.95 mo/$59.99 yr | Number of Servers: 500 | Server Locations: 141 countries | Devices Supported: Free Trial?: No | Read Full Review: PureVPN Review
WHY IT'S A TOP PICK: Huge number of server locations means the fastest speeds in the business.
Anyone who's ever totally-definitely-100%-legally used a torrenting program to only download legal open-source software will tell you, P2P networks are known for being a drag on the rest of your internet bandwidth.
That's why the next time you're looking to torrent that movie – I mean…definitely open-source software – you should use a VPN that's built for the fastest speeds possible.
This is where PureVPN comes in, featuring some of the quickest recorded times thanks to their huge network of 180 locations and 500 separate servers to choose from every time you link up.
That's the main factor here, because although some VPNs might be faster for users in the United States or Europe, they could also be the slowest for those connecting in China or Southeast Asia.
With so many servers to choose from on the PureVPN service, you can be sure you're getting the leanest, meanest connection in all of the West (or East!).
Note: PureVPN is also uncharacteristically transparent about its activity logging policy: they note when you connect to the server and when you
Most Important Features
Encryption Methods
As mentioned in How We Choose, the VPN providers on this list use several open source methods to encrypt your data while it's being transferred from your computer to their servers, then their servers out into the world.
This ensures that you're receiving the most anonymity possible, and makes it next to impossible for any government agencies, ad companies, or ISPs from verifying your IP address when it requests or uploads data to and from the web.
The VPNS here use a mix of the following protocols: OpenVPN, PPTP, L2TP, IPSec and VyprVPN's proprietary "Chameleon" standard to protect your data and connection from intruders.
Server Locations
Although it hurts to say it, unfortunately, you're always going to see a hefty bit of speed loss whenever you're operating on a connection that's spoofed between your computer and a separate server.
Until someone figures out how to bend the laws of the universe to our will, the more space there is between two computers, the longer it will take for them to communicate.
This means you should always go with a service that has a verified server that's optimally somewhere in your city (50 miles or less), and at the very least in the same country as you (500 miles or less).
Internet Speeds
There's no way to say exactly how much speed you can expect to lose when you sign up for a particular VPN because everyone's experiences (and connection speeds) are different.
The key to focus on is the more that a VPN encrypts your data, the slower the connection is going to be regardless of the server's location.
Some VPNs offer alternatives to this tradeoff (like Chameleon from VyprVPN), but overall you should expect anywhere from a 10% to 50% drop in performance depending on the service you go with and the location of the nearest server.
Malware/Phishing Protection
Although all the VPNs on this list offer some form of additional malware and phishing protection, some are far from perfect.
Spotflux especially seems to have difficulty catching phishing links before your browser steps in with a warning of its own.
As such, you should always run an independent antivirus software alongside your VPN to ensure maximum protection for both your connection and your computer at the same time.
Trial Option
No matter which provider you decide to go with, you should always look for the option for limited-time trials so you can test the server speeds for yourself. No two server locations will be the same across different providers, and the only way to know for sure that your connection won't suffer too much speed loss is by running the program on a trial first.
Also, sometimes you may not get access to the geoblocked streaming content you want through a specific VPN, as many services are getting blacklisted by major streaming providers to cut down on abuse.
If you're only getting a VPN to stream content, read through customer reviews to find out whether the content they're trying to view (BBC's iPlayer in America, for example) worked on the service prior to signing up for a long-term contract.

Some VPNs have good trial options like the Hotspot Shield 45-day trial period, but if there is no trial option on a VPN, check if there is a money-back guarantee, since some offer this refund option for 30 days.
Mobile App/Compatibility
If the service you chose doesn't have an app, it should at the very least have the option to connect to the service manually through the native clients on your iOS or Android device.
This makes it so if you do any mobile banking or shopping from your phone, you can be sure that man-in-the-middle attacks or public Wi-Fi sniffers aren't able to grab your data out of the air and use it to steal your identity at a later date.
Price
Aside from Spotflux, all the VPN options on this list require a monthly subscription.
You should expect to pay anywhere from $4.99 to $15.99 a month, depending on the package you get and the service you go with,
Luckily, all the VPNs we've featured also feature pretty significant price breaks if you sign up for monthly/annual options instead, reducing the price anywhere from 10% in the case of ExpressVPN, up to 50% with Private Internet Access.
Company Reputation
As we mentioned earlier, while it's not possible to exactly quantify what separates VPN providers with good reputations from the bad, the best thing you can do in that situation is to read customer feedback.
Reading reviews from independent users and their experience with the company will give you a better idea of who values their base and listens to their criticism, and who's out there just to offload marketing data for fast profit.
A good example of a reputation gone wrong is HideMyAss. Once the most popular VPN service in the world, they took a huge hit after it was revealed the company had been openly selling off its users information to advertisers, as well as handing over data to government intelligence agencies from the US and UK.
Mistakes or Things to Avoid
VPN vs. Proxy: Before you sign up for a subscription, you need to know the difference between a proxy and a VPN service. While technically both achieve the same effect (ghosting your IP through an external server), that's where the similarities end. A proxy simply takes your raw traffic and spoofs the IP behind it, without any real encryption or protecton behind it, or actually protecting it in any real way. A VPN on the other hand utilizes all the protocols we've talked about to layer billions of bits of encryption on every website you visit or files you download.
Double-Check the Number of Supported Connections: All the VPNs on this list support at least five simultaneous connections, but not all VPNs are created alike. If you want to connect a desktop, laptop, tablet and phone to the same VPN account and run them together without one or the other getting logged out, you'll need a provider that supports multiple connections.
What Else You Should Think About
Now that you've got your pick for the best VPN for 2023 with Private Internet Access, it's time to do a deep dive into the best routers of 2023 so you can implement an extra layer of protection when you're browsing anonymously on the web.
Linksys routers are especially good for anyone who wants to install a third-party VPN-friendly firmware on their router like DD-WRT, which you can learn how to do yourself from the handy guide found here. Other considerations for upstart VPN users are tools like the website What's My IP, which you should be using regularly to make sure your VPN isn't suffering from the occasional IP leak.